A collaboration between Italian designer Cristina Celestino and wallpaper company Misha in 2020, presenting hand embroidered wallpaper of imaginative oversized flowers, passion fruits and mushrooms with unnatural toned pastel colors appeared on geometric and natural diagonal stripes background. The project is called Esotismi (Exoticism). It consists of four different designs: Cabana — Formosa — Passiflora — Oasi. Each mixes the geometries and organic design elements, presented in different color combinations.
Misha's wallcoverings focuses on hand techniques of painting and embroidery, also the color choices of backgrounds that give impacts to the wallpaper designs. The production process of Misha's wall coverings using natural product ingredients. The glues are based on natural starch and it applies the silk wallcoverings to the wall safely. It can also be removed without damaging the wall surface. Craftsmen hand painting natural paint pigments on the decoration.
This collaboration project between Misha and Celestino is the second one after the Caffé Concerto Cucchi project back in 2019:…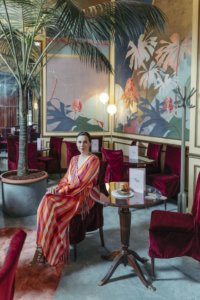 Cristina Celestino on her 2020 design for the wallpaper brand Misha: "The new Exoticism collection for Misha evokes a daydream. A dreamlike vision in which an imaginary flora with bright and anti-naturalistic colors binds to flat and repeated backdrops inspired by the world of fabrics."
For more information about CR and Misha :
Website cristinacelestino.com or designattico.com – Twitter designattico – Pinterest @cristinacele – Instagram @cristinacelestino.
Misha Wallcoverings Website www.mishawallcoverings.com – Facebook Misha Wallcoverings – Linkedin Misha Milano – YouTube Misha Wallcoverings – Pinterest Misha Wallcoverings – Instagram @mishawallcoverings.
Source: THE EXOTICISMS OF CRISTINA CELESTINO — Cristina Celestino Instagram — Misha Wallcoverings Instagram — Esotismi by Cristina Celestino- Formosa.